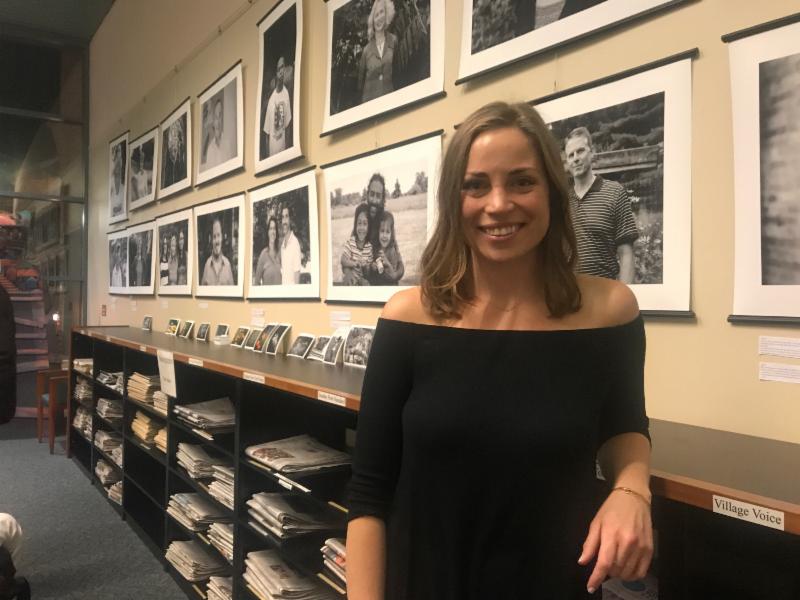 ICG's Annual Celebration on Thursday, November 9, not only celebrated the ICG community's impact over the last year but also served as the opening of the photographic exhibition "Photographing Philanthropy for the Love of Humanity." The artist behind it is Tompkins County Community College (TC3)  student, and mother of three, Sarah Clapp. This creative project was made possible through TC3's commitment to innovative internships that prepare students for meaningful careers.
A native Ithacan, Sarah Margarett Clapp is a portrait photographer best known for her documentary-style photography, capturing the extraordinary in the ordinary, and highlighting the forgotten art of observing the day-to-day with a sense of wonder. Her main medium is digital photography, though she often experiments with a collection of film and Polaroid cameras.
Sarah has been cultivating Photographing Philanthropy: for the Love of Humanity over the last year. The centerpiece of the exhibition are large format black and white portraits of ICG supporters.
The work is an important aspect of ICG's 2017 theme: Making our work visible. ICG's director, Erin Marteal, says, "This is our first concerted effort to highlight some of the philanthropists behind the scenes who help make ICG's impact possible. We are excited that Sarah's work is bringing some of the individuals, and why they support ICG, to light."
Sarah was excited about this project because, with young children of her own, she is familiar with the Garden, and it gave her an opportunity to shoot outdoors, which is something she is passionate about.
Much of her photography highlights her children as "they navigate the world as unwitting, illustrative subjects." Sarah's appreciation for nature and discovery, and the essential impact it can have on people of all ages made her well-suited to take the reins on this unique ICG project. The show remained up after the Celebration through the end of November.