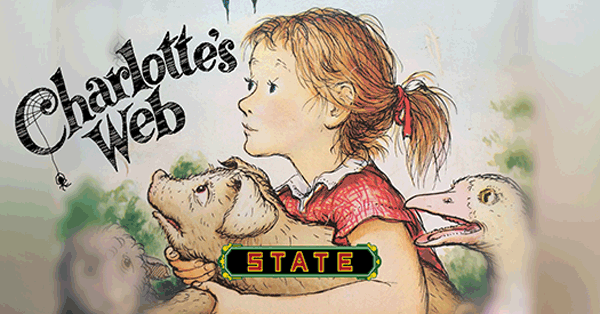 At 3pm on Sunday, May 20th, Theatreworks USA will be performing Charlotte's Web LIVE at State Theatre Ithaca. Buy tickets using the promo code GARDEN to receive discounted ticket prices: $12.75 for adults, $8.50 for children, and $10.25 for seniors.
Theatreworks' production of Charlotte's Web is based on E.B. White's loving story of the friendship between a pig named Wilbur and a little gray spider named Charlotte. Wilbur has a problem: how to avoid winding up as pork chops! Charlotte, a fine writer and true friend, hits on a plan to fool Farmer Zuckerman — she will create a "miracle." Spinning the words "Some Pig" in her web, Charlotte weaves a solution which not only makes Wilbur a prize pig, but ensures his place on the farm forever. This treasured tale, featuring mad-cap and endearing farm animals, explores bravery, selfless love, and the true meaning of friendship.
Charlotte's Web is a part of The Tompkins Trust Company and CSP Management Family Series and is sponsored by Northeast Pediatrics and Adolescent Medicine and NYSEG with community partners of Family Reading Partnership and Ithaca Children's Garden.