This year's Mud Day on June 29th saw about 500 attendees celebrating nature and play on a beautiful day in the Garden!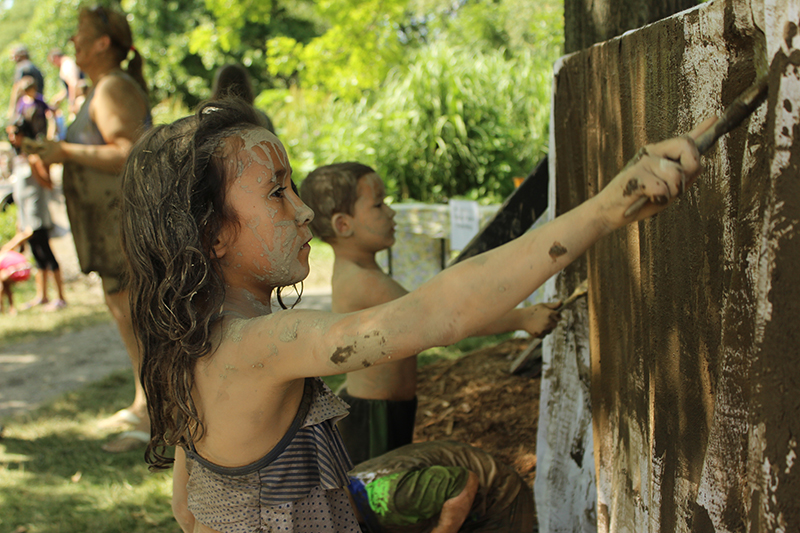 Ithaca Children's Garden welcomes summer with a mud-riffic day of play in the Hands-on-Nature Anarchy Zone. Mud slides, mud pools, mud pies, mud art = MUD FUN! Bring a few dollars for snacks, a towel or change of clothes, and a bundle of laughter to enjoy this afternoon of summertime play.
ICG's International Mud Day celebration is free (although all donations are appreciated), open to the public, and fun for all ages. Come early and help Ithaca Fire Department flood the Hands-on-Nature Anarchy Zone, and then stay for slipping, sliding, tossing, stirring, building, and painting. It's a muddy good time!
International Mud Day started in 2008 in Nepal and Australia. Today it is celebrated by thousands of children in dozens of countries worldwide as a chance to celebrate nature and the great outdoors by getting muddy. At the Hands-on-Nature Anarchy Zone, International Mud Day continues to draw together people and the outdoors.
This event is made possible in part by a grant from the Tompkins County Tourism Program and through our ongoing partnership with U.S. Fish & Wildlife Service.
For an in-depth look at the muddy fun, take a look at our 2019 Mud Day photo album. You can also view photos from past Mud Day events by photographers from USFWS and our own photographers in our photo albums: 2018 Mud Day photo album, 2017 Mud Day photo album, 2016 Mud Day photo album, and 2015 Mud Day photo album.
International Mud Day Cultural Connections
What is International Mud Day all about?
International Mud Day is a celebration that started in 2008 in Nepal and Australia, designed to connect people with nature. Several other countries now take part in the event including the United States through the celebration in Ithaca! In 2012, the first International Mud Day Celebration in the Northeast USA took place at the Hands-on-Nature Anarchy Zone in Ithaca Children's Garden!
Each Mud Day is specific to the community in which it occurs. In Nepal, traditional music and dances happen in the mud, and the local wildlife gets in on the action.
In Australia, a preschool class heard that some children in Nepal, specifically those in orphanages, couldn't participate in Mud Day because they only had one pair of clothes. The class raised money to provide extra clothes for the kids in Nepal and celebrated simultaneously in their schoolyard, instigating the event's spread around the globe. Ithaca Children's Garden helps provide contact with nature to all members of the Ithaca community for free year round so that no one is financially barred from connecting with nature.
In Nepal, Mud Day marks the beginning of the rice-growing season. It is a celebration of the nature that provides the ideal place to plant rice, the commodity that will later sustain the community. Apart from sustaining the garden's children all year in the Hands-On-Nature Anarchy Zone, Ithaca Children's Garden's mud becomes a home for frogs, a bath for the birds, and the nutrients and support for lots of different plants in an ecological community. Last year, rice was planted at Ithaca Children's Garden as a gesture of unity with Nepal – a grain that used to grow wild along the banks of the Great Lakes where it was gathered by the ancestors of the members of the Seneca Nation.