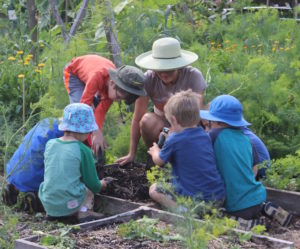 Junior Farmers 
June 25-29
Become ICG gardeners for the week and discover what makes the garden grow.  Plant and harvest, conduct soil science experiments, learn the ins and outs of compost, and design planter boxes. Learn all about pollination with our resident bees.  Care for the hens and learn about their super powers. Gain hands-on practical gardening skills during this camp, because there's no better way to learn than by doing.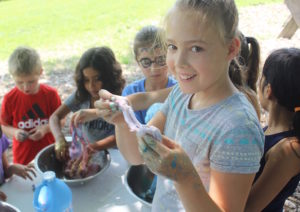 Nature Play Corps I: Muddy Mad Scientists
July 2-6, no camp on July 4th
What's that smell?  Oh!  We're at it again with a week full of ooey, gooey, fizzing, slimetastic experiments. The mud will be flowing and we're ready to run, climb, laugh, splash, and relax.  Make mud pies, dance in mud puddles, and be prepared for the mudstravaganza!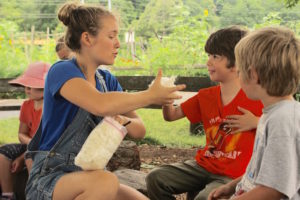 Home Sweet Homestead
July 9-13
Join us for a week of doing things the old-fashioned way with a new fangled twist.  Explore self-sufficiency from growing food to tending amazing animals to cooking and preserving. We'll explore solar power and play old fashioned games, make our own medicines and scavenge for wild edibles.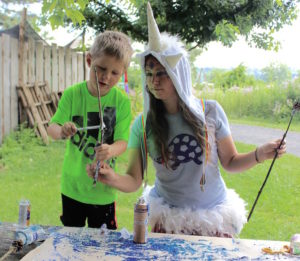 Garden Magic: only a few spaces left
please email register@ithacachildrensgarden.org for availability 
July 16-20
Potions and spells, fairies and elves….summer is a magical time at ICG.  Let your imagination guide you through an enchanting week of small worlds and magical memory-making.  Mix potions, build elf and fairy houses, and weave wands.  Appropriate for all young wizards, witches, fairies, and elves.  Wings and wands welcome.  Please leave pet dragons at home.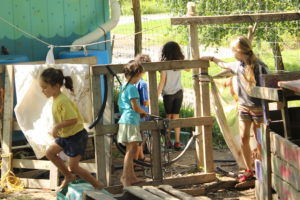 Nature Play Corps II: Forts, Dens, & Hideouts  *Waitlist*
July 23-27
Transform the Hands-on-Nature Anarchy Zone into everything you dreamed it could be with your own two hands, your imagination, and loose parts available only this week! We'll build hideouts and forts, dig tunnels and mountains, add, change, tear down and build again. Learn about how animals & insects build their homes at ICG and try your hand at creating your own habitat. Explore your world through your ideas, body, tools, materials, and play.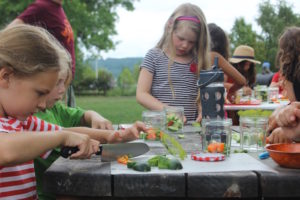 Garden Chefs  *Waitlist*
Aug 6-10
Transform the abundance of ICG's Kitchen Garden into snacks, meals, salads, dips, drinks, and desserts.  Learn real cooking skills from real chefs.  Master garden-favorite recipes and invent your own.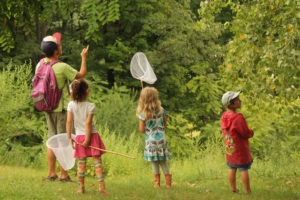 Nature Play Corps III: Eco-Explorers
Aug 13-17
Grab your gear! We're off to explore the many habitats of ICG….wade in the wetlands, wind through the meadow, and explore the forest.  Discover the plants and animals that make these ecosystems their home.  When not out on an adventure, we'll tinker, build, and create using recycled materials and what we can scavenge from nature. We'll restore, upcycle, convert and invent everything from sculptures to simple machines.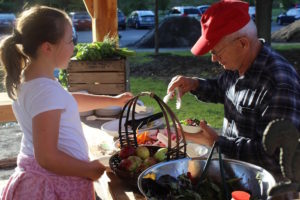 Farmers Market  *Waitlist*
Aug 20-24
Spend your days gardening, cooking, and running the ICG farm stand. Learn where the food we eat comes from, discover how it goes from the garden to our plates, and experience what the farmers market business is all about, behind-the-scenes.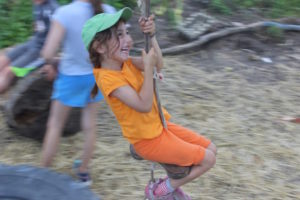 Nature Play Corps IV: Adventure  *Waitlist*
Aug 27-31
Who knows where this week will take you.  Jump into the story; the adventure is yours to create.  Ziplines and hideouts, secret identities and forbidden forests, mad scientists and magical pixies.  Bring a dash of courage, fill your pockets with imagination, and prepare for the unexpected; it's time to choose your own adventure.
Waitlist*: It is not uncommon for spaces to open up allowing children on the waitlist to participate in camp. To add your child to the waitlist for your preferred week, which is strongly recommended, please follow the registration process as you normally would. Once you have entered your contact information you will have the option to add your child to the waitlist.
SaveSave
SaveSave
SaveSave